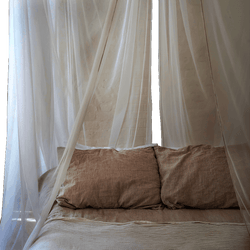 EMF Naturell Sleeping Canopy
All Cotton, More Headroom
This box shaped canopy offers good shielding from wireless radiation such as cell phone towers, wifi, and cordless phones. Side slits provide easy in/out access and multiple ceiling attachments help create excellent inside volume and a sense of airy-ness. Naturell™ fabric incorporates super thin silver threads which reflect RF radiation, and could help you get the refreshing sleep you need. Easy to install, washable, and no need for grounding. Great for home use or travel.
Will fit over most bed frames. Twin dimensions: Width 125 cm, depth 225 cm, height 200 cm. King dimensions: Width 225 cm, depth 225 cm, height 200 cm.
Made with natural cotton which is OEKO-TEX certified, meaning it was tested to be free from any harmful substances. There are many ways to mount the canopy. Swag hooks (included) can be placed into ceiling. King size requires 8 ceiling hooks. Twin sizes needs 6 ceiling hooks. Also, you can make a wooden or PVC support frame, or even use clothesline or the existing frame of a 4 poster bed. Add a floor mat (sold separately) if you also want protection from below. Allow 3-4 weeks for delivery. NOTE: These mesh shielding material reduce incoming RF by 99% or more, however, this may not be seen on a cell phone. Mesh materials do not have the ability to prevent cell signals from getting to your phone. Phones will still work inside this canopy, and there may be no drop in your "reception" bars. Cellular devices can function with full reception on very minute amounts of the signal. You can perform a true test with an RF meter to see the reduction (99% or better, depending on the canopy).