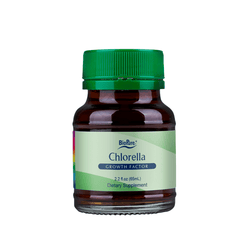 BioPure
Chlorella Growth Factor CGF Liquid
BioPure® CGF is a concentrated, highly-bioavailable heat extract of Chlorella pyrenoidosa. Supports metabolism, detox mechanisms, and immune system.* 
Chlorella is a complete food rich in protein, vitamins, and minerals, including magnesium, potassium, Vitamins A, C, D, E, and K, and the full complement of B vitamins. This potent nutraceutical superfood is a highly concentrated source of chlorophyll and contains eight essential amino acids and a diverse collection of bioactive compounds, including omega-3 fatty acids, carotenoids, polysaccharides, and peptides. 
BioPure® CGF (Chlorella Growth Factor) is a heat extract of Chlorella pyrenoidosa that concentrates DNA and RNA from the nucleus. This process yields a superior product with uncompromised bioavailability that supports overall immune function and a normalized response to oxidative stress.*  
BioPure® CGF supports an alkaline internal pH, binds to heavy metals and environmental toxins, and draws them out through the gastrointestinal tract.* The effective removal of toxins is a critical first step for avoiding detox irritations and supports nutrient absorption, energy, cognition, and balanced histamine response.*  
BioPure® Chlorella CGF Liquid is easy to mix with other liquids and is an excellent choice for individuals that do not prefer capsules or tablets. 
Certified Organic superfood* 

 

Packed with protein, vitamins, minerals, and amino acids*

 

Contains bioactive compounds, including omega-3 fatty acids, carotenoids, polysaccharides, and peptides*

 

Potent source of chlorophyll that provides pH alkalinizing benefits*

 

Supports immune function, detoxification processes, energy, and cognition*

 

Effectively binds and removes heavy metals and environmental toxicants*

 
Chlorella Growth Factor
 is a unique bioactive compound that is only found in the nucleus of chlorella algae. It is a rich source of chlorella RNA and DNA that supports cellular health and regeneration.
Suggested Use
Take 1-2 teaspoons twice a day with 2 oz of water, juice or milk†. Intended for internal use, but may be used externally on skin†.
Servings per Container: 7
Ingredients
100% Chlorella Growth Factor, Distilled Water.
No artificial color, flavors, preservatives, alcohol or yeast.
Warnings
Please Note: Bloating may occur, especially as it influences the intestinal bacteria.
Allergy test by using trace amount on skin and observing for 24 hours.  Continue allergy test for consumption with trace amount and observe for 24 hours.  Stop use of product if adverse reactions occur with ongoing use.
Must be used within 7 days of opening.
This product may not be compatible with a low sulfur diet.  Consult your doctor before taking this or other supplements