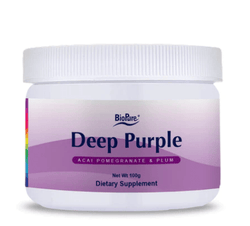 BioPure Deep Purple is a synergistic blend of freeze dried Pomegranate, Açaí and Plum (all commonly known as "Superfruits"). Offered in a 100 gram tub with serving scoop.
BioPure Deep Purple is comprised of some of the most powerful antioxidants known, capable of providing protective support for the fight against culprit radical oxygen species (ROS) compounds.* These three richly colored superfruits come together in this 100% organic formula, and bring along omega fats, vitamins, minerals, amino acids, fiber, and powerful oxygen-quenching polyphenols. The health benefits of these fruits overlap and include support of healthy bones, digestive system, and skin; improved fat metabolism, circulation, and cardiovascular health; support of hormonal balance, and detoxification and weight-loss programs; and energy and immune system boosts.*
uggested Use
Intended for internal use. Add 1-2 scoops (3-6 g) daily to juice, water, tea, granola, yogurt, milk, or smoothies†.
Ingredients
Organic freeze dried açaí, organic freeze dried pomegranate, organic freeze dried plums. Made exclusively with sustainable, fairly traded, certified organic açaí, pomegranate and plum.
Other Ingredients: Maltodextrin<3% per serving (derived from rice), Acacia Gum, Silicon Dioxide, Citric Acid and Organic Apple Fiber.
Warnings
Please Note: Eating pomegranate may interfere with certain medications in the same way that grapefruit juice does.
Be sure to ask your healthcare provider about any drug interactions. Allergy test by using trace amount on skin and observing for 24 hours.  Continue allergy test for consumption with trace amount and observe for 24 hours.  Stop use of product if adverse reactions occur with ongoing use.