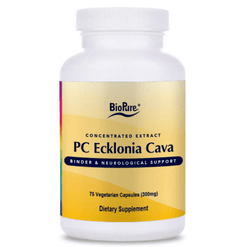 BioPure PC Ecklonia Cava is extracted from the brown algae Ecklonia Cava (Luminariaceae japonica) which is grown in deep, cold, pure ocean waters off the coast of Korea, China and Japan.  BioPure's PC-Ecklonia Cava Extract is a source of polyphenolic compounds.  A natural source of iodine, manitol, fucoidan, alginates, fucoxanthin, lamarin, eckol and dieckol, BioPure PC-Ecklonia Cava also contains all of the 72 different trace minerals.
Studies have shown PC Ecklonia Cava Extract to be a very robust antioxidant.  Antioxidant strength is measured by the amount of rings composing its structure. Flavonoids usually contain 3 interconnected rings. Green tea catechins contain 4 interconnecting rings, whereas PC-Ecklonia Cava has up to 8 interconnected rings making it 10-100 times more powerful to fight off free-radicals than other polyphenols.
Ingredients
98.8% pure Ecklonia Cava Extract, Vegetarian Capsule
Warning
 No binders, fillers or flowing agents.