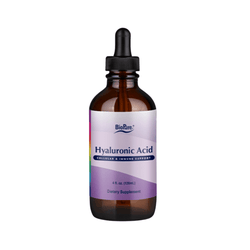 BioPure® Hyaluronic Acid supports joint lubrication, flexibility, and skin hydration.* 
Hyaluronic acid is a lubricating substance produced in the body that helps maintain cellular and epidermal moisture levels and optimal joint function.  

It is a critical component for maintaining skin hydration, resiliency, and optimal appearance.* BioPure® Hyaluronic Acid is a plant-based form of hyaluronic acid with a low molecular weight making it a highly bioavailable form that supports skin elasticity and provides an auxiliary building block for optimal cellular hydration and joint lubrication.* For best results, hold BioPure® Hyaluronic Acid under the tongue for 30 seconds before swallowing.  
Using BioPure® Hyaluronic Acid and BioPure® CockTail synergistically supports each formula's immune-supportive properties.  
Vital moisturizing compound*

 

Supports connective tissue health, skin elasticity, and joint lubrication*

Hyaluronic acid

 is present in synovial fluid that lubricates and carries nutrients to articular cartilage, supports joint lubrication, flexibility, and wound repair in the body.

 
Suggested Use
20 drops (1 ml) in a glass of water per day or as directed by your Health Care Practitioner.
Ingredients
Sodium Hya

l

uronic Acid (

Sodium Hyaluronate

) 3mg

Other Ingredients:

 

Sa

l

ine Water, Potassium Sorbate, Sodium Benzoate, Citric Acid