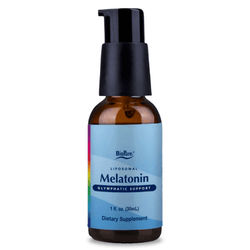 BioPure
Liposomal Melatonin Phospholipid
BioPure Liposomal Melatonin is primarily used to support normal sleep patterns and cognitive function.*
BioPure Liposomal Melatonin, features Melatonin which is a hormone produced mainly in the pineal gland of the brain during the nighttime hours. It is involved with regulating the sleep-wake cycle in humans as well as circadian rhythms throughout the animal kingdom. Darkness stimulates the pineal gland to produce melatonin and light inhibits it.
Natural melatonin, and the synthetic forms that are being developed, have hypnotic and sleep-promoting actions, without hangover, withdrawal, or other side effects, and they are proving to be a useful supplemental support. The mechanism by which melatonin promotes sleep appears to be largely due to its effect on specific receptors in the hypothalamus "sleep switch". Experiments with humans, monkeys, cats, and other animals have shown that melatonin can support normal sleep quality and duration.*
Servings per Container
150 based on 1 pump serving
Suggested Use
1-2 pumps directly into mouth or as directed by your health care practitioner.  Hold for 30-60 seconds before swallowing.
Ingredients
Melatonin (4mg per pump)
Essential Phospholipids from purified Sunflower lecithin (16mg)
Other ingredients
Water, Ethanol, Glycerin, Vitamin E (as d-alpha tocopheryl polyethylene glycol 1000 succinate and as Natural Mixed Tocopherols), Medium Chain Triglycerides.