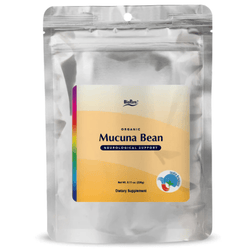 BioPure
Organic Mucuna Bean
Mucuna pruriens is a traditional Ayurveda adaptogen. Supports the nervous, endocrine, and reproductive systems.* 
BioPure® Mucuna is a potent botanical supplement and a natural, bioavailable source of L-DOPA, a precursor to dopamine, and 5-HTP, a precursor to serotonin. It contains bioactive ingredients that support mood, neurological health, neurotransmitter production, sleep, and a normalized response to oxidative stress.* BioPure® Mucuna also supports endocrine and reproductive health and may function as an aphrodisiac.  
Natural, bioavailable source of L-DOPA, a precursor to dopamine and 5-HTP  

 

Supports brain health, memory, mental acuity, and cognition* 

 

Nourishes healthy levels of dopamine* 

 

Supports the body's ability to handle stress*

 

Mucuna 

bean

 

is a nootropic herb and natural source of L-DOPA, the precursor to dopamine, 

and 5-HTP, the precursor to serotonin. 

 
Suggested Use
Two level teaspoons twice a day in warm water or as recommended by your practitioner†.
Ingredients
100% Certified Organic Mucuna Bean Seed Powder
Warnings
SIDE EFFECT AND SAFETY
ALLERGY WARNING
Do not use with a history of Diabetes, Cardiovascular Disease, Liver Disease, Low Blood Sugar, Peptic Ulcers, Mental Illness, Melanoma or prior to Surgery.