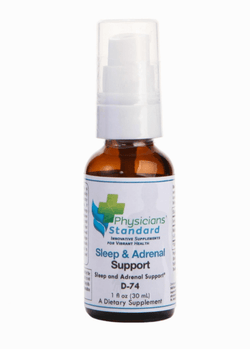 Physicians' Standard
Sleep & Adrenal Support
Sleep & Adrenal Support Suggested Use
Take 1-4 pumps or as recommended by your healthcare provider. Hold in mouth for two minutes before swallowing. Best used 15 minutes before bedtime.
Sleep and Adrenal Support
Patients who suffer from a constant stream of sleepless nights can be left in a perpetual state of drowsiness and feeling as if they're missing out on life.
Physicians' Standard Sleep & Adrenal Support is specially formulated to help patients sleep comfortably without the next-day drowsiness and addictive side effects.* Sleep & Adrenal Support contains 7 slumber-supporting ingredients, including Melatonin, 5-HTP, L-Theanine, DHEA, Pregnenolone, Adrenal Complex and Tyrosine, to help your patients:
Fall asleep and stay asleep*
Support positive mood and mental health*
Regulate sleep cycles*
Calm the body and reduce muscle tension*
Make  sleep more restful and rejuvenating*
Improve relaxation*
Physicians' Standard Sleep & Adrenal Support formula uses a DHEA and Pregnenolone combination to help transport Melatonin and 5-HTP into the system for fast-acting support.* We've also added our quality Adrenal Complex from USDA-approved cows to support tired, stressed adrenals, helping your patients to wake up feeling refreshed and renewed.*