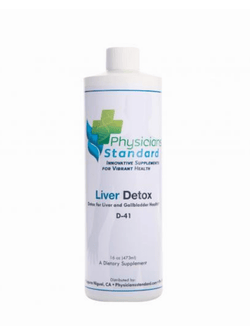 Physicians' Standard
Liver Detox 16 oz
Detox for Liver and Gallbladder Health *
Physicians' Standard Liver Detox supports the liver's natural ability to draw out and remove toxins from the body and plays a major role in helping achieve optimal immune system and intestinal health.*
What Makes Our Liver Detox Unique
Liver Detox's proprietary blend helps eliminate toxins from the liver faster than Epsom salts alone.* Upon entering the liver, Physicians' Standard Liver Detox stimulates bile production.*
Along with Epsom salts, some of the active ingredients in our unique formula include:
Taurine: An amino acid containing sulfur, Taurine is essential for bile acid metabolism.* It may promote digestion by aiding in the emulsification of dietary lipids in the intestine.*
MSM (MethylSulfonylMethane): A major source of bioavailable dietary sulfur for the body. It supports normal permeability of cell membranes, ensuring that nutrients and water can enter the cell while toxins and wastes can exit.*
TMG (Trimethylglycine): A natural compound that supports liver health by aiding in the effective metabolism of homocysteine, a toxic amino acid.*
Beta Glucan: A natural source of soluble fiber, Beta Glucan supports the immune system and promotes optimal intestinal health.*
Using Liver Detox instead of regular Epsom salts as a liver or gallbladder cleanse maximizes the liver's natural ability to remove toxins.*   


Suggested Use
Shake well. For daily liver and general detox support, take 1 ounce a day or as recommended by your health care provider. For liver gallbladder flush, follow regimen instructions.