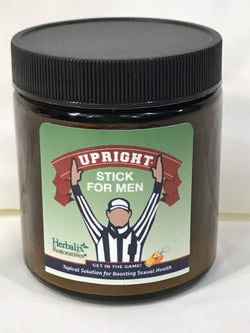 Herbalix
Upright Stick for Men (4oz)
Ingredients:  *Coconut Oil (Cocos nucifera), Beeswax (Cera flava),  *First Pressed Extra Virgin Olive Oil (Olea europaea), Shea Butter Sustainable (Butyrospermum parkii), *Olive Leaf (Oleae europaea), *Castor Oil (Ricinus communis), *Coriander Seed (Coriandrum sativum), *Cocoa Butter (Theobroma cacao), *Sweet Almond Oil (Prunus amygdalus dulcis), *Kelp (Laminaria digitata), *Arrowroot (Maranta arundinacea), *Tapioca (Cassava derived), Magnesium, *Ginseng (Panax quinquefolius), *Cinnamon Bark (Cinnamomum verum), Herbalix™ Organic Preservative, Essential Oils of Peppermint (Mentha x piperita), *Rosewood (Aniba rosaeodora), White Birch (Betula Nigra), *Clove (Syzygium aromaticum), *Lemongrass (Cymbopogon flexuosus), *Rosemary (Rosmarinus officinalis) and Sandalwood (Santalum album)   * Certified Organic

We are living in "the era of aluminum overuse" where every day our bodies are exposed to the dangers of heavy metal toxicity.  Scientists measuring co-contaminants in air, water, food, are finding that levels of heavy metals are accumulating at a faster rate than the human body can manage.  One specific heavy metal, aluminum is at an increase in humans and for men can accumulate in the testes which can reduce sperm count and rob the body of the nitric oxide, needed for sexual arousal, causing erectile dysfunction.
Doctors had thought that women were the main reason for infertility, however based on the latest studies males may be the ones.  The reduction of the sperm count worldwide and the connection to excess aluminum in sperm are considered to be a source of infertility in men.
As males age they can accumulate toxic heavy metals leading to chronic inflammation in organs and most vulnerable are the testes.  Even more so, the use of cosmetics such as talc or talcum powder (which contains aluminum) could be another source of exposure.  Periodic cleansing done topically can help counter the daily accumulation of aluminum which is present in air, water, food, toiletries, and medications.
Researchers have recently discovered a topical crème that will cleanse and stimulate the male genitalia naturally!  Enjoy the powers of earth- sharing natural organic ingredients to help cleanse away the impotent effects of aluminum.   Safe, simple, convenient, effective and natural !
Cleansing – To maintain a healthy, clean reproductive system, apply a light coat to scrotum and perineum area periodically.  This topical crème made with detoxing powders will trap, absorb, and cleanse away (thru osmosis) unwanted aluminum allowing blood flow and natural nitric oxide to return.   These botanicals have thermal properties which create sensory warmth helping transfer microscopic metal ions (salts) thru the skin to be collected in the crème and easily washed off.  May also be used to help relieve itching and/or dryness. Beneficial in helping with "flow" issues. For those working on reproduction, it is a good idea to begin cleansing at least six months prior to  desired conception.
Directions before sexual activity – Using the stick applicator for the .47 oz or 2.5 oz containers, apply a very small amount of crème, enough to lightly coat the scrotum area, approximately three (3) hours prior to anticipated sexual activity.  When using the 4 oz jar, apply with hand or applicator.  For added benefit, begin using the product a few times in advance of your test drive.  Formulated without synthetic chemicals or petroleum – safe for sexual partner.