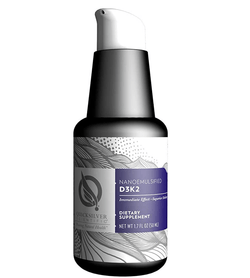 Quicksilver Scientific
Nanoemulsified D3K2
Because vitamin D absorption can be impacted by diet, lifestyle, age, health, and genetic variation, NanoEmulsified Vitamin D3/K2 was developed to render both fat-soluble vitamins highly absorbable.*

Vitamin K2 can also assist vitamin D in keeping bones strong. This formula contains a highly bioactive form of vitamin K2 called menaquinone-7, or MK-7.*

Each 0.5 mL delivers 2500 IU of vitamin D3 and 90 mcg of vitamin K2. A serving is one pump. Each bottle contains 100 servings.

The difference is clear: this product's clear consistency can only be achieved with liposomes that are small enough to pass between cells. The smaller, more stable vesicles begin absorbing as soon as they hit the mouth.*

This product uses phosphatidylcholine from purified sunflower seed lecithin. It does not contain gluten.