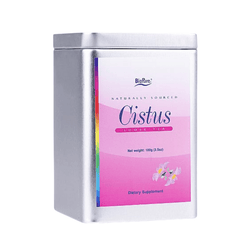 BioPure® Cistus is a proprietary blend of Cistus incanus and Cistus albidus loose-leaf tea rich in polyphenols, proanthocyanins, and bioflavonoids. Supports immune and gastrointestinal function and promotes a diverse, balanced gastrointestinal microbiome and overall wellness.*   
Cistus tea has been traditionally used for centuries in Mediterranean countries to support overall wellness. It is a potent ally for gut health and supports a diverse, balanced gastrointestinal microbiome.*
BioPure® Cistus is a potent loose-leaf tea made from the leaves, stalks, stems, and flowers of 100% wild organic Cistus incanus and Cistus albidus plants grown in the Mediterranean regions of southern Europe. We source botanicals grown in their native environment to ensure the proper balance of bioactive compounds that deliver beneficial polyphenols, proanthocyanins, and bioflavonoids that provide powerful gastrointestinal support.* BioPure® Cistus also provides astringent and toning effects on the body's internal terrain, supports eliminating excess mucous produced by imbalanced microbes, and optimal immune function.* 
Rich-source of polyphenols, proanthocyanins, and bioflavonoids*

 

Promotes a balanced gastrointestinal microbiome*

 

Provides 

astringent

 and toning effects on the 

body's

 internal terrain*

 

Supports the elimination of e

xcess mucous produced by imbalanced microbes*

 

Encourages 

optimal

 immune function*

 
Prop 65
The state of California requires the following warning due to exposure to the raw product. However, third-party laboratory testing confirms that the tea produced after brewing and steeping BioPure® Cistus tea leaves does not contain detectable amounts of lead.
WARNING: This product can expose you to chemicals including Lead, which is known to the State of California to cause cancer and birth defects or other reproductive harm. For more information, go to www.P65Warnings.ca.gov."
Suggested Use
One teaspoon into a cup of boiling water.  Leave for up to 10 minutes before filtering through a sieve to enjoy and drink.  The strained tea can be re-steeped for up to two, even three further servings.
Servings per Container
There are about 174 servings per container.
Ingredients
Proprietary blend of Cistus albidus (aerial parts) and Cistus incanus (aerial parts)