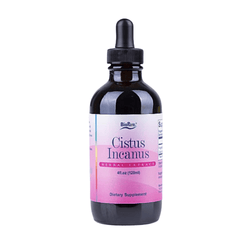 Cistus incanus contains key bioactive compounds the support normalized mucosa production in the mouth, sinuses, and gastrointestinal tract.* 
Cistus incanus has been used for centuries to support overall wellness.* It is a potent ally for gut health and supports gastrointestinal function.* BioPure® Cistus Incanus has astringent and toning properties that support the body's internal terrain and address excess mucous produced by imbalanced microbes.* It supports normalized sinus and gastrointestinal mucosa and optimal immune function.*  
Rich-source of polyphenols, proanthocyanins, and bioflavonoids* 

 

A powerful ally for gastrointestinal microbiome balance* 

 

Supports optimal immune function and normalized mucous production throughout the body*

 
Suggested Use
20 drops (approx. 1mL) once per day or as directed by your Health Care Practitioner.
Servings per Container
120 (approx 1 squeeze of the dropper or about 45 drops)
Ingredients
Cistus incanus (aerial parts), 45% organic ethanol, purified water.




We obtain raw ingredients and materials from ethical and reliable suppliers worldwide. We use organic, gluten-free alcohol made from corn that has not been genetically engineered, and we use state-of-the-art USP purified water systems for all dilutions involving water.