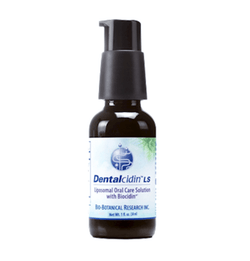 Bio-Botanical Research
Dentalcidin LS Oral Care
A healthy mouth is an important part of whole body health.
Microorganisms and bacterial biofilms cause a number of oral health challenges. Use of the broad-spectrum botanicals in Dentalcidin™ LS assist in removing biofilms and plaque and are an excellent way to promote and maintain healthy teeth and gums. Dentists also recommend use of Dentalcidin™LS as an oral rinse for increased support to Dentalcidin™ toothpaste where needed.
Biocidin® Proprietary Blend: 
Echinacea Purpurea (extract) & Angustifolia
Black Walnut (hull and leaf)
Other Ingredients:
Vegetable glycerin, Phospholipids (from purified Sunflower Seed lecithin), purified water, ethanol, Vitamin E (as Tocofersolan and natural mixed tocopherols)
Suggested Use
Swish using 2 pumps for 1-2 minutes then expel. Use 2-3 times per day after brushing with Dentalcidin™ Toothpaste for a complete program and ongoing maintenance. Best if used within 60 days of opening.
Store in a cool dry place.