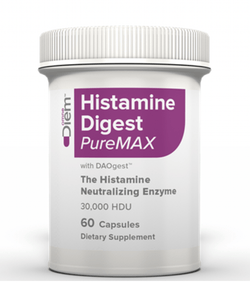 Diem
Histamine Digest PureMax
With 6.4 mg of natural diamine oxidase per capsule delivering 30,000 HDU, Omne Diem™ Histamine Relief PureMax is the highest potency DAO supplement on the market. Designed Release capsules ensure delivery to the small intestine, while the innovative packaging protects enzyme activity for optimum results.
Other Ingredients:
Microcrystalline cellulose (low moisture), clear vegetarian capsule (hypromellose(DRCaps®)), clear vegetarian capsule (gellan gum (DRCaps®))
Wheat Free
Dairy/ Milk Free
Gluten Free
Soy Free
Yeast Free
Preservative Free
Free of Artificial Colors/Flavors
Egg Free
Shellfish Free
Non-GMO
Fish Free
Tree Nut Free
Peanut Free
Take one capsule 15 minutes before meals as needed.
Keep closed in a cool, dry place out of reach of children. Do not use if tamper seal is damaged.