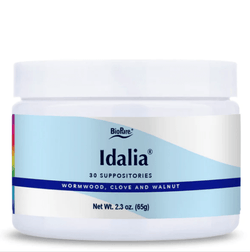 BioPure
Idalia Suppository
BioPure® Suppositories offer an alternative method of ingredient delivery that bypasses digestion for fast-acting effects.* 
Artemisia Essential Oil 

(

Artemisia absinthium

) provides broad-spectrum microbial balance support.*

 

Clove Essential Oil 

(

Eugenia caryophyllata

) potent source of eugenol, which supports the skin's microbial balance.*

 

Organic Cocoa Butter

 (

Theobroma cacao

) is a highly emollient oil that supports the skin's resiliency.*

 

Ozonated Organic Castor Oil

 (

Ricinus communis

) supports skin health.*

 

Ozonated Organic Olive Oil 

(

Olea europae

a) is rich in vitamins A, D, E, and K and monounsaturated fats that moisturize and soothe irritated skin and support the skin's microbial balance.*

 

Walnut Oil

 (

Juglans regia

) is a rich, emollient carrier oil that supports the targeted delivery of potent botanical 

ingredients.*

 
BioPure Idalia® Suppositories provide an innovative source of Ozonated Organic Olive and Castor Oils, Walnut Oil, Artemisia and Clove essential oils delivered in an emollient, Organic Cocoa Butter suppository.* 

Suggested Use
Use two to three times per week or as directed by your Health Care Practitioner.  Insertion directions are included in the container.†.
Refrigerate 45 minutes prior to use.
Servings per Container
30 individually wrapped suppositories
Ingredients
Contains nuts.
Proprietary blend of Organic Cocoa Butter (Theobroma cacao), Organic Olive Oil (Olea europaea), Ozonated Castor Oil (Ricinus communis), Walnut Oil (Juglans regia) and essential oils of Wormwood
(Artemisia absinthium) and Clove (Eugenia caryophyllata).