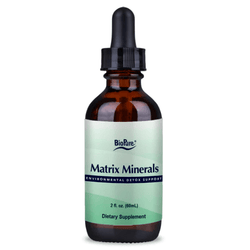 BioPure® Matrix Minerals contains a proprietary blend of Fulvic and Humic Acid-derived ionic 73 ionic trace minerals. Supports gastrointestinal microbiome balance and cellular performance.* 
Cellular metabolic systems require enzymatic catalysts to support regeneration, growth, and the oxidation of toxins. Trace minerals are critical components for activating these enzymatic systems, encouraging critical biological processes and healthy cellular signaling. BioPure® Matrix Minerals contains Fulvic and Humic Acids that provide a plant-derived source of 73 ionic trace minerals that support cellular performance, gastrointestinal function, nutrient absorption, and the body's detoxification pathways.* 
Rich source of naturally-occurring Fulvic and Humic Acids *

 

Contains 73 trace minerals*

 

Supports balanced cellular signaling*

 

Supports gastrointestinal function, nutrient absorption, and a normalized response to oxidative stress*

 
Suggested Use
Mix entire contents with 32oz. of water.
Adults: 1-2oz. (30-60mL) per day with water* or 1/2 dropper, twice daily*
Children: 1-3 teaspoons per day with water* or 1/2 dropper, one daily*
*Or as recommended by your licensed practitioner.
Ingredients
Mineral List: Antimony, Barium, Beryllium, Bismuth, Boron, Bromine, Calcium, Carbon, Cerium, Cesium, Chloride, Chromium, Cobalt, Copper, Dysprosium, Erbium, Europium, Fluorine, Gadolinium, Gallium, Germanium, Gold, Hafnium, Holmium, Indium, Iodine, Iridium, Iron, Lanthanum, Lithium, Lutetium, Magnesium, Manganese, Molybdenum

Neodymium, Niacin, Nickel, Niobium, Osmium, Palladium, Phosphorus, Platinum, Potassium, Praseodymium, Rhenium, Rhodium, Rubidium, Ruthenium, Samarium, Scandium, Selenium, Silicon, Silver, Sodium, Strontium, Sulfur, Tantalum, Thallium, Thorium, Tellurium, Terbium, Thulium, Tin, Titanium, Tungsten, Vanadium, Ytterbium, Zinc, Zirconium. Amino Acids: Alanine, Glutamic Acid, Glycine, Histidine, Isoleucine, Leucine, Methionine, Phenylalanine, Serinine, Threonine, Tryptophan, Valine.
Other Ingredients: Reverse Osmosis de-ionized carbon filtered water.
Please Note: Fulvic and humic acids may cause diarrhea initially. Cut back dosage if this occurs.