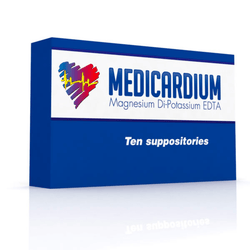 Remedy Link
Medicardium: EDTA Metal Detox
Ingredients:
500 mg of USP grade Magnesium di-potassium EDTA and a proprietary blend of edible organic essential oils in a base of organic cocoa butter.
Caution: 
Those with high mercury levels should consider removing mercury fillings by a properly trained biological dentist and doing a mercury detox before taking any product with EDTA as it may distribute mercury.
EDTA can lower zinc, copper, calcium and manganese.  If you are low in any of these minerals or plan on taking more than one box of medicardium, consider supplementing with these four minerals 24 hours after taking a suppository, the wait 12 hours before your next suppository.