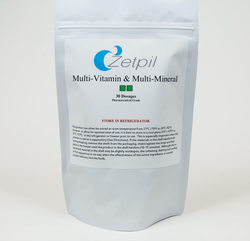 Zetpil
Multivitamin & Mineral Suppository
Provides therapeutic dosages of the most

 

bio-active forms of essential vitamins and minerals, along with the necessary co-factors required for optimal absorption and utilization.
Provides the necessary levels of essential B-vitamins which can help lower homocysteine levels.*
Real therapeutic option for those people who are unable to swallow pills

 

(supplements), have malabsorption issues, or have lifestyle choices and are unable to meet all dietary requirements (ie: vegetarian, low caloric diets, etc.)


*THESE STATEMENTS HAVE NOT BEEN EVALUATED BY THE FOOD AND DRUG ADMINISTRATION. THIS PRODUCT IS NOT INTENDED TO DIAGNOSE, TREAT, CURE, OR PREVENT ANY DISEASE.