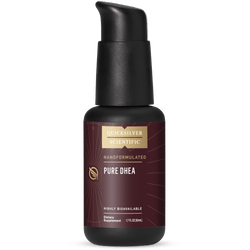 Quicksilver Scientific
Pure DHEA
Ingredients:
DHEA (Micronized Dehydroepiandrosterone)
Other Ingredients:
Glycerin, ethanol, tocofersolan, medium chain triglycerides, phospholipids (from purified sunflower seed lecithin), water
Pure DHEA provides a highly bioavailable form of micronized dehydroepiandrosterone (DHEA) designed to balance female hormones in the perimenopausal, menopausal, and postmenopausal years. DHEA is a sex hormone naturally produced by the body and helps synthesize both estrogen and testosterone. Pure DHEA is a vital ally for maintaining youthful DHEA levels.