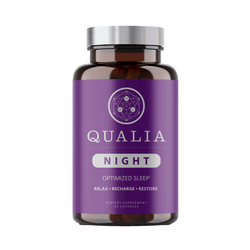 Qualia
Qualia Night Optimized Sleep
Start getting the restorative sleep your body needs to regenerate and perform at its peak with Qualia Night. This unique patent-pending formula integrates clinically studied ingredients to support deep sleep, cognition, immunity, and long-term sleep performance.*
• Supports Deep Regenerative Sleep*
• Amplifies Next Day Energy & Performance*
• Enhances Mental Clarity & Brain Health*
• Promotes Healthy Immune Functions*
Suggested Use
Take up to 4 capsules at dinner or several hours before bedtime. This product is non-sedating and designed to be taken earlier in the evening (unlike before bedtime sleep aids).
** Night is designed to be taken 5 days on and 2 days off each week. It does not matter if the "off-cycle" days are consecutive or apart, so long as they happen each week.
Warnings
When using dietary supplements, please consult with your physician if you are undergoing treatment for a medical condition or if you are pregnant or lactating.
Quantity: 60 caps