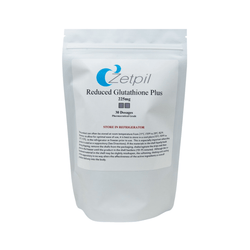 Zetpil
Reduced Glutathione Suppositories
Glutathione (GSH) may protect the brain from free radicals and oxidative stress.
Decreased levels of glutathione have been linked to the initiation and progression of neurodegenerative diseases, including ALS, Alzheimer's, Parkinson's and Huntington's diseases.*
Oral intake of GSH does not increase GSH levels in the body.
What is Gluthione?
Glutathione (GSH) is considered to be the most powerful, most versatile, and most important of the body's self-generated (endogenous) antioxidants.  Glutathione is found in almost all living cells with the highest concentrations found in the liver, spleen, kidneys, pancreas and the eye.   It helps maintain normal brain function, protects the integrity of red blood cells, and plays a vital role in our immune function by modulating white blood cell production as well as its anti-viral properties.  However, glutathione is best known for being a very powerful antioxidant.
Antioxidants are REQUIRED to prevent excess free radicals which lead to oxidative stress.
Zetpil™ Suppository Advantage
Zetpil™ delivers nutrition via the rectum with the use of suppositories that have a unique, all- natural formulated base that has revolutionized not only this mode of delivery, but also the ability to obtain nutrients in a far more efficacious method.  These suppositories are a result of combining natural ingredients with a non-irritating, rapid melting (5-6 minutes), readily absorbable (superior retention), antioxidant base material (free radical scavenging ability) and delivers the nutrients directly into the bloodstream in less than 20 minutes in a highly effective manner. Oral supplements are exposed to the hazards of stomach acid, digestive enzymes, food-related breakdown, first pass metabolism, and other bioavailability issues in the gastro-intestinal system.
Additionally, many raw materials simply have a very low bioavailability , and only achieve around 10% or less (commonly <1%) absorption rates, even if the patient is in optimal health condition. Compromised health, age, or certain conditions that result in an inability to take oral nutrients often preclude these patient populations from obtaining the necessary nutrition to stay healthy which often exacerbates chronic health issues.
Zetpil™ suppositories are a NOW solution to delivering the necessary nutrients to patients, on a daily basis, that is both easy, comfortable and cost effective. The safety and noticeable effectiveness of these products will far outweigh any initial hesitation you have regarding this mode of delivery.
---
What makes Zetpil™'s Reduced Glutathione Different?
What makes this product truly revolutionary is that we have combined pure pharmaceutical grade Reduced Glutathione into our proprietary suppository base  to be delivered directly into the blood stream potentially affecting an elevation of the serum glutathione levels.   The cost is a fraction of IV Glutathione treatments, can be done in the comfort of your own home at your convenience, and allows for repeated administration without the time and expense of doctor visits.  For a majority of the patient population pursuing the benefits of Reduced Glutathione treatments, frequent out-of-the house trips are not only bothersome, but problematic as well.  Zetpil™'s revolutionary product may just be the practical solution so many are seeking.
Supplement Facts
Serving Size: 1 Suppository
Servings Per Bag: 30
Amount Per Serving
Reduced Glutathione
225 mg
Proprietary blend of NAC, Taurine and Reduced Glutathione
12X
Suppository Base: The base is a proprietary combination of plant and fruit butters, medium chain triglycerides, phospholipids, lecithin and arrow root starch.
If you choose to use this product as a rectal suppository, it is highly recommended you attempt to clear your bowels prior to inserting it to avoid premature evacuation.  To facilitate insertion it is recommended you moisten the product by passing it under a stream of cool water or use a personal lubricant. When used as a suppository, this product requires 15-20 minutes retention to ensure the complete absorption of the bioactive ingredients. This suppository can be inserted in any position. Although not required, if inserted while lying on one's side, consider remaining in the supine position for 1-3 minutes following insertion. (Always insert flat end of suppository first).
Note: Zetpil™ Reduced Glutathione Plus can be taken at any time during the day. It can also be taken immediately before bed time in order to facilitate the body's repair processes that occur during the sleep state.
WARNINGS
Although safe for children, this product should be kept out of the reach of children.

Do not use if the suppositories are open or damaged.

As with any nutrient if you are pregnant or breastfeeding, seek the advice of a health care provider before using this product.

This product is contraindicated in individuals with a known hypersensitivity to phospholipids, or any of the ingredients and should avoid taking this product.
Individuals that have chosen to take this product as part of a personal nutrient program have overwhelmingly chosen to utilize this product as a rectal suppository. However, this product can also be taken safely by mouth. If one chooses to take this product orally, then this product may be considered a dietary supplement in accordance with current FDA guidelines. 
The addition of a homeopathic dilution of 12x has been added to enhance the efficacy of this product. Therefore, these products may also be considered to be homeopathic in nature. Accordingly, these products comply with FDA regulations regarding the formulation and production of homeopathic products. 
Disclaimer: These statements have not been evaluated by the FDA. This product is a Federal Food, Drug, and Cosmetic Act compliant combination of naturally derived FDA GRAS (Generally regarded As Safe) herbal, nutraceutical, vitamins, minerals and amino acids products legally sold in the USA.  In accordance with FDA regulations, when taken orally, this product may be considered a dietary supplement as defined by section 201(ff) of the Act, 21 U.S.C. § 321(ff). Also, this product consists ONLY of a combination of naturally derived FDA GRAS (Generally regarded As Safe) herbal, nutraceutical, vitamins, minerals and amino acids products legally sold in the USA. Therefore, this product cannot be considered a drug as defined in section 201(g)(1) of the Act, 21 U.S.C. § 321(g)(1). This product is not intended to affect the structure or function of the body and is not intended for use in the diagnosis, cure, mitigation, treatment or prevention of disease in man. Any nutritional suggestions and research regarding this product are provided for informational purposes only, and are not intended to diagnose, treat, cure or prevent disease nor should any information provided be used as a  substitute for sound medical advice.