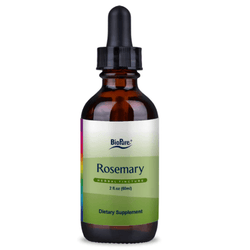 Rosemary is a versatile botanical tincture extracted from the leaves of Rosmarinus officinalis. Supports circulation, neurological function, and a normalized response to oxidative stress.* 
BioPure® Rosemary is extracted from Rosemary (Rosmarinus officinalis) leaves which contain many beneficial phytonutrients and polyphenolic compounds. These potent, bioactive constituents, including rosmarinic acid, provide broad-spectrum benefits and support circulation, neurological function, and a normalized response to oxidative stress.*  BioPure® Rosemary also supports the body's detoxification pathways and organs, and research indicates that the phenolic compounds carnosol and carnosic acid may provide radioprotective support.*   
Potent source of bioactive phytonutrients 

 

Support

s neurological function and circulation*

 

Supports detoxification pathways

 and a normalized response to oxidative stress*

 

May provide radioprotective support*

 

Rosemary 

(

Rosmarinus officinalis

) has been used for centuries to support overall wellness and normalized 

detoxification.*

 
Suggested Use
20 drops (approx. 1mL) once per day or as directed by your Health Care Practitioner.
Servings per Container
60 dropperfulls (serving size is about 20 drops)
Ingredients
A proprietary blend of Rosemary (leaf), organic ethanol and purified water.
We obtain raw ingredients and materials from ethical and reliable suppliers worldwide. We use organic, gluten-free alcohol made from non-GMO corn, and we use state-of-the art USP purified water systems for all dilution involving water.