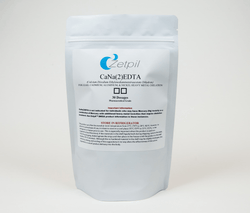 Zetpil
CaNa(2)EDTA Chelation Suppository
CaNa(2)EDTA is a synthetic amino acid, recommended by the CDC, to be used for the treatment of chelating lead, cobalt, cadmium, tin, aluminum, nickel and antimony.

Chelation using CaNa(2)EDTA via suppository has proven to be as effective, safer than, and more cost effective (80% less expensive) than the intravenous form of CaNa(2)EDTA because it eliminates many of the problems commonly associated with intravenous(IV) CaNa(2)EDTA *

Each Zetpil™ CaNa2EDTA product contains:
CaNa2EDTA - 850mg

N-Acetyl-Cysteine - 40mg

Suppository Base: The base is a proprietary combination of excipients of plant and fruit butters, medium chain triglycerides, phospholipids, lecithin and arrow root starch.
This product is contraindicated in individuals with a known hypersensitivity to phospholipids, or any of the listed ingredients.

Zetpil™ delivers nutrition via the rectum with the use of suppositories that have a unique, all- natural formulated base that has revolutionized not only this mode of delivery, but also the ability to obtain nutrients in a far more efficacious method. These suppositories are a result of combining natural ingredients with a non-irritating, rapid melting (5-6 minutes), readily absorbable (superior retention), antioxidant base material (free radical scavenging ability) and delivers the nutrients directly into the bloodstream in less than 20 minutes in a highly effective manner. Oral supplements are exposed to the hazards of stomach acid, digestive enzymes, food-related breakdown, first pass metabolism, and other bioavailability issues in the gastro-intestinal system.