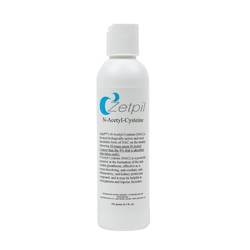 Zetpil
N-Acetyl-Cysteine (NAC) Cream 6oz
N-Acetyl-Cysteine (NAC) has been demonstrated to replenish brain glutathione levels, which is the brain's major antioxidant.*
NAC has anti-inflammatory activity as well as direct effects on glutamatergic and dopaminergic neurotransmission.
NAC significantly improved depressive symptoms and functional outcomes in depression, bipolar disorders and schizophrenia due to its antioxidant effects and its ability to increase glutathione production.*
NAC may be successful in treating compulsive behavior like smoking, gambling, obsessive-compulsive disorders and drug addiction.*
* These statements have not been evaluated by the Food and Drug Administration. This product is not intended to diagnose, treat, cure, or prevent any disease.
Ingredients:

 

N-Acetyl Cysteine, distilled water, sunflower oil, wheat germ oil, medium chain triglyceride oil, shea butter, rosemary oil extract,  grapefruit oil, orange oil and potassium sorbate.
Dosage and Use:  1 squeeze/squirt is the equivalent of ½ teaspoon = 185mg of NAC. Apply 1-2 squirts on clean, dry skin daily or as directed by healthcare professional.]
Warnings:
Although safe for children, this product should be kept out of the reach of children.

If pregnant or lactating, consult your physician before taking this product

For topical use only

Avoid eyes and mucous membranes

Do not exceed recommended dose

If you experience any adverse reaction, discontinue use of the cream and contact your healthcare provider
Disclaimer: These statements have not been evaluated by the FDA. This product is a Federal Food, Drug, and Cosmetic Act compliant combination of naturally derived FDA GRAS (Generally regarded As Safe) herbal, nutraceutical, vitamins, minerals and amino acids products legally sold in the USA.  In accordance with FDA regulations, when taken orally, this product may be considered a dietary supplement as defined by section 201(ff) of the Act, 21 U.S.C. § 321(ff).
International Orders:
Please note: we are unable to fulfill this item for international orders.